Our Holistic Process
Our financial planning approach is a comprehensive process designed to help coordinate and orchestrate the many aspects of a client's financial life into a cohesive whole. The objective is to give a better sense of where they are, where they want to go, and how to get there. It all starts with a one-on-one personal review of your situation so we can assess what solutions are best for you. Then we'll work together to develop, implement, review, and optimize your plan over time to make sure you stay on the right track.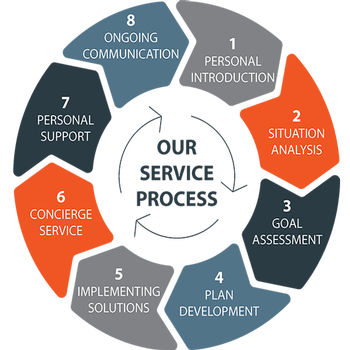 1. Personal Introduction
Our first step is getting to know you. During this hour, you and your family are the most important part of our day. We treat you like family, and we want you to feel the same.
2. Situation Analysis
Here, we'll discuss your current assets and which aspects of them, be it a thriving business or family members, you'll need our guidance in protecting or growing.
3. Goal Assessment
In this phase, we'll help you envision your "Everest." We want to know where you'd like to be in the coming years, and what the optimal outcome of financial planning looks like to you.
4. Plan Development
Once we've uncovered your specific goals, we'll discover the best insurance and financial opportunities available to you and help you choose the best options. We'll go over the plan to make sure you're ready for each step.
5. Implementing Solutions
Here is where we get to implement your identified wealth management tools to maximize and protect everything you've worked so hard for.
6. Concierge Service
We'll stay close to ensure your plan is always aligned with your goals. We're available to you for any questions, and we'll make adjustments for any new endeavors you decide to undertake.
7. Personal Support
We're glad to be your trusted guide in financial planning, and we know that this is your journey. We're here to serve you, and we'll offer support whenever you need it.
8. Ongoing Communication
We'll keep you up to date about your plan, and even if there's no news to share, we'll check in with you. We'll empower you so you're confident knowing your finances and future are cared for, and you know exactly where you are and where you're going.